Goose bumps all over…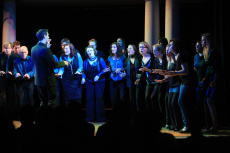 …that's the special feeling the don camillo chor has been generating for 18 years now for lovers of sophisticated vocal music - with jazz ballads, swing standards, sophisticated a-cappella rock arrangements, but also with refined classical interpretations. Above all, the 35 singers are dedicated to developing the intricacies of timbre, vocal technique and interpretation which ultimately bestow individual personality and musicality upon any song.
The don camillo chor stands for pure enjoyment, and has become one of the best jazz/pop choirs in Germany, winning first prize in the 2009 and 2013 Bavarian Choir Competitions, and third place in the nationwide German Choir Competition in 2010.
Competitions and festivals have taken the Munich singers to Mainz (Vocal Jazz Summit), Austria (vokal.total), Denmark (Aarhus Vocal Festival), Poland, and many other destinations. At the 2008 World Choir Games in Graz the ensemble won a gold medal in the Jazz category.